Musikrichtung:
Pop/Rock/Indie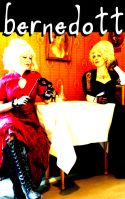 Hi! We are very interested in playing at Bochum Total 2010!
We are the band BERNEDOTT from Stockholm, Sweden.
Bernedott delivers dramatic live performances with pop streched towards rock, jazz, tango and various folktunes. Add 18th century clothes and you"ll get a performance full of energi mixed with a touch of humor.
We all have years of experience of playing live. Bernedott can perform both full band and accostic setting.
Do check out our homepage - on the link below, to hear some of our songs and see trailers from our shows.
http://www.myspace.com/bernedott
Feel free to contact us for more information!
We are hoping to hear from you!
Rebecca Halvardsson & Maria Hellsten, musicians, singers and songwriters in Bernedott.
Contact:
E-mail: bernedott@gmail.com
Rebecca Halvardsson +4670 - 6016143
Maria Hellsten +4670 - 2765885
Das Wetter bei Bochum Total
... wird vom Rewirpower-Portal gemacht! Hier gibts den aktuellsten Bericht für Bochum Total
>

wetter-Rewirpower