Musikrichtung:
Heavy Metal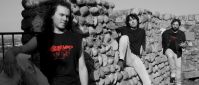 Hi!
This is ALLTHENIKO, an Italian heavy metal (genre: classic/thrash/"80s) band,
I"m writing you as we"ll play on 24th July 2010 @ Hard"n Heavy
Summernight Open Air (Euskirchen - NordR.-W.) and we"re searching for
other gigs in the same period to have a small tour planned. Could we
have any chance to play by you?
As you could see in our space ( www.myspace.com/allthenikometal ), we
played in many festivals, mainly in Italy, in Germany and @ Metal Camp
2007, (Slovenia). On 17th October 2009 we played in N
Das Wetter bei Bochum Total
... wird vom Rewirpower-Portal gemacht! Hier gibts den aktuellsten Bericht für Bochum Total
>

wetter-Rewirpower