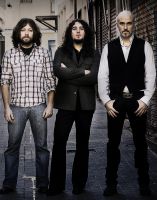 I would be interested in submitting Eldorado band for consideration in the xxx festival
Eldorado new album is rising nominations in reputed awards.
The band won the Vox Populi USA Independent Music Awards in two categories: best hard rock / metal album and song
Album: http://www.independentmusicawards.com/imanominee/9th/Album/HardRock-Metal
Song: http://www.independentmusicawards.com/imanominee/9th/Song/HardRock-Metal
"The House of the 7 Smokestacks" has been finalist as best international song in the Australian Musicoz Awards.
The International Songwriting Competition (ISC) selected among 15.000 entrants "Atlantico" as finalist in the rock composition category.
This album was produced, recorded and mixed by Richard Chycki (Aerosmith, Mick Jagger, Rush etc.), in his studio in Toronto (Canada) and mastered by Andy VanDette in Masterdisk, New York.
The french label Bad Reputation is responsible for band in Europe, where they have released the album in May 2010.
Spectra Records (http://www.spectrarecords.com/09artists.html) label signed the band for USA&Canada where they are going to release the album in February 2011.
EPK: http://www.sonicbids.com/Eldoradorockband
www.eldoradorockband.com
www.myspace.com/eldoradorockband
www.facebook.com/eldoradorockband
You can have a look to some live performance in the Eldorado youtube channel:
http://www.youtube.com/eldoradorockband
Das Wetter bei Bochum Total
... wird vom Rewirpower-Portal gemacht! Hier gibts den aktuellsten Bericht für Bochum Total
>

wetter-Rewirpower