Musikrichtung:
Pop/rock/metal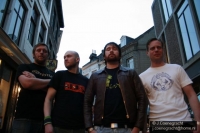 Hi! Small Stone Records are currently streaming the new Deville album "Hydra" ! Out march 26:th!
Here: http://smallstone.bandcamp.com/album/hydra
Deville signed to Small Stone Records and are confirmed for SXSW Austin, Texas, Desertfest London 2013, SFTU,Erfurt among other festivals and tours and hope you can consider Deville for your festival.
New video"LAVA":http://youtu.be/uw8vbUXWdh4
During 2011 and 2012 Deville have been stuck in the studio most of the time except for some european festivals and random shows. After two full length albums and a couple of hundred shows all around Europe the new record is a product of that. Trying to take this experience of what the band does best and what works live this new record is more wide than previous releases
best regards!
Andreas/Deville
full records at Spotify:
Deville
Das Wetter bei Bochum Total
... wird vom Rewirpower-Portal gemacht! Hier gibts den aktuellsten Bericht für Bochum Total
>

wetter-Rewirpower