Musikrichtung:
Indie-Electro/Alternative Rock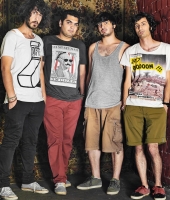 Beating from the heart of Tehran, Langtunes was formed in 2009 as a cover band. After an underground show in a garden-house outside the city of Tehran, they started recording their own material. They have produced 2 Demo cds, with 9 of their songs, Played 3 Tours in Europe, and are working on their first EP, and booking their 2014 summer tour. Regardless of their musical style, and performance abilities, The circumstances in which they work in, given the fact that they live and work in a country, ruled by Islam, that"s banned all kinds of western (specially rock music) have given them an edge, The true spirit of "Rock n" Roll" that appears missing, among today"s most Western Rock bands.
TO get a picture of what Langtunes sound like, try to picture this : "Nirvana" meets "Bloc Party", meets "Does it offend you, Yeah?" mixed with the electro-rock essence of "Justice" with a touch of "...The Peppers" funk, and the Post-Punk feel of the early "Arctic Monkeys" meeting each other in a basement in the heart of Tehran.
Das Wetter bei Bochum Total
... wird vom Rewirpower-Portal gemacht! Hier gibts den aktuellsten Bericht für Bochum Total
>

wetter-Rewirpower