Musikrichtung:
rock/metal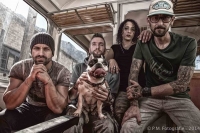 Hello,
We are RAYA, a Metal band from Switzerland (Ticino), and we are looking for a place where we can play and promote our music.
We would be enthusiastic to have the opportunity to perform at your festival.
We already have a pretty large experience on live events in open-air around Europe (Montreux, Trebur, Traffic-Jam festival and many others). Since 2006 we did play as opening act for many famous bands like: Soilwork, ill Niño, Terapy, Caliban, No use for a name, Emil bulls, Donots, 4lyn, Extrema …
On our Press-page you "ll find in a short look our biography, the newest songs and videos etc.
www.rayaweb.ch/press
On our Youtube channel you can find also live videos http://www.youtube.com/user/rayaband
And you can listen/download our latest songs for free here https://soundcloud.com/rayaband
You can find any other informations on our official site www.rayaweb.ch .
If you like us and our music please contact us!
We thank you in advance for the time that you dedicated to us. We are
waiting for your hopefully positive reply.
Best regards!
Lomba (for Raya)
info@rayaweb.ch
phone: +41(0)793789877
Das Wetter bei Bochum Total
... wird vom Rewirpower-Portal gemacht! Hier gibts den aktuellsten Bericht für Bochum Total
>

wetter-Rewirpower