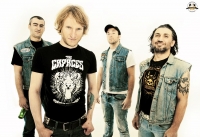 Hello Dokkem Open Air,
we are NITROVOLT
you look for a highspeed Rock "n" Rock band? high voltage music? fast & loud ?
NITROVOLT is your hoice.
The quartet, influenced by Motörhead, AC/DC and Zeke, In 2015 our third official studioalbum "Dirty Wings" will be released, now that"s a reason to go on tour!
Attached you"ll find three songs from the new work, which will blow your mind, a band photo, stage plot and band Logo.
You want to see us on your stage? Dail 0049 176 84 356 554 and let"s make business, call me for more information,
reviews of our album "Pänzer" and "Rock'n'Roll Commando"
https://www.google.de/?gws_rd=ssl#q=nitrovolt+p%C3%A4nzer+review
https://www.google.de/?gws_rd=ssl#q=nitrovolt+rock+n+roll+commando+review
Facebook: https://www.facebook.com/Nitrovolt
Youtube: NITROVOLT
Greetings from
Luciano Vanini - Krefelder Straße 98 - Köln 50670 - Germany 49 (0) 176 84 356 554 - lui_nitrovolt@yahoo.de
Das Wetter bei Bochum Total
... wird vom Rewirpower-Portal gemacht! Hier gibts den aktuellsten Bericht für Bochum Total
>

wetter-Rewirpower