Musikrichtung:
country - pop - blues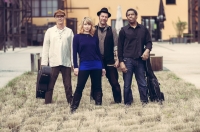 COTTONFIELDS
This combo is an exciting mixture of four individual musicians. Together, they are building one sound with a summary of more than one hundred years of experience in studio work as well as performing on stage. The outstanding music is made of each and every unique skills on their instruments sung with a beautiful female voice, made up with a choir of three voices. The range of the songs is an acoustic crossover of country, pop and blues from the early times up to these days: Stevie Wonder, Dire Straits, Keb´Mo, Diana Krall and even more. As a matter of course, the quality of the sound is prepared in an excellent way based upon high-end equipment with the sensitivity for every kind of audience such as private parties, club atmosphere, street events and much more.
Feel free to contact COTTONFIELDS for any bookings to create something special for your event.
Das Wetter bei Bochum Total
... wird vom Rewirpower-Portal gemacht! Hier gibts den aktuellsten Bericht für Bochum Total
>

wetter-Rewirpower