Musikrichtung:
Indie/Electro Rock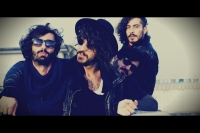 Hi,
This is Behrooz Moosavi from Tehran, Iran. I have an underground, Indie/Electro Rock Band in Tehran. We"ve been working together for the past 6-7 years and during the last 4 years, we"ve been touring for the whole summer time in and around Germany. We played around 25 shows during our last summer tour in 2014, and we got signed by "Parvenue Records" in Nurnberg, and we released our first official LP in Germany on December 2014. We had so many interviews and press attention over the past months, by some of the biggest radios and newspapers in Germany, from FluxFm, to Suddeutsche Zeitung, and Nord Bayern to Deutschland Radio Kultur.
I"m sending this submission to be a part of your line-up in year 2015. I"m sending you links to some of our videos, some of our press and some music for you to get an idea of how we sound and look like, and how we perform on stage.
It would be a huge opportunity for us to be a part of your festival, and it would be a huge support to us, coming from Tehran, with so few opportunities that we have back home!
So I would be really appreciated if you could dig in a bit in our work, and give us a chance, before you ignore the submission, given the fact that you receive a huge number of applications every year!
Looking forward to hearing from you
Thank you so much for your understanding, and concern and time
All the Best
Behrooz
Here"s our Album on Spotify (I could send you the mp3 files as well, if requested) :
https://play.spotify.com/album/1jazk4g1sXC1x0ppRN2IrP
Here"s our Facebook fanpage, with most of our info on it:
https://www.facebook.com/langtunes
Here"s the interview with FluxFm radio in Berlin ( could send you more links, if requested) ;
http://www.fluxfm.de/nachmittag-element-of-crime-langtunes-3-minuten-lesung/
Here"s our Youtube channel, with some video clips, and live performances :
https://www.youtube.com/TheLangtunes
Here"s a list of our past performances during our last two summer tours (not a complete list):
https://www.facebook.com/langtunes/app_123966167614127
Das Wetter bei Bochum Total
... wird vom Rewirpower-Portal gemacht! Hier gibts den aktuellsten Bericht für Bochum Total
>

wetter-Rewirpower