Herkunft:
Die Niederlände
Musikrichtung:
Pop (psychedelic and folk)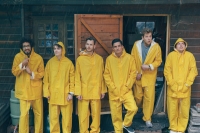 "Upon first listening to Stuart Mavis" fetching pop songs, you might not think that his musical hero is none other than Kendrick Lamar. Keep listening, however, and you"ll notice that the Dutch songwriter isn"t afraid of crossing boundaries between folk, pop and hip hop. He blurs the lines with danceable hooks, dark, ingenious lyrics — and an important supporting role for the trumpet." - Eurosonic/Noorderslag 2016
He's performed international showcases with his band at Eurosonic for three years in a row.
Previously he's performed at several Liberation Day concerts, Oerol, Noorderzon, and many more.
 He"s performed numerous times at national radio (Radio 538, 3FM and Radio 1).
In 2013 he's opened for the Babysitter Circus in his hometown, Groningen. Later on he's opened for Moss and Tula.
In 2014 he's released two singles: Different Generations and The Gang, both of which recieved airplay at 3FM. Early 2015 he's released an acoustic mini-EP (Soy Milk), on which he reveals his darker and more melancholic self.
More recently he's released a stunning livesession performing 'Ocean' with his band at the Pelican Sessions. 'Ocean' is a featured track on Stuart Mavis' upcoming debut EP (2016), on which he will explore a darker and more melancholic sound.
Media Stuart Mavis 2016
VIDEO
Ocean Pelican Session
http://bit.ly/1UECJxZ
The Gang
http://bit.ly/1O2y04t
Different Generations
http://bit.ly/1jS8abH
AUDIO
Silhouetes
http://bit.ly/1OkUOxr
Altruïsm
http://bit.ly/1mO4LNe
UNRELEASED
Emily
http://bit.ly/1O6zyKE
Uly$ee$ demo
http://bit.ly/1P0r4Fh
Gin Mixed Lemonade demo
http://bit.ly/1JDQ2yd
Das Wetter bei Bochum Total
... wird vom Rewirpower-Portal gemacht! Hier gibts den aktuellsten Bericht für Bochum Total
>

wetter-Rewirpower